KevinTrainer v1.1 for Modern Warfare 3 by LillilateX
Please read the complete post, your question may be answered somewhere here already!
I while ago I released the first version of KevinTrainer and a lot of people really liked it. Unfortunately there were a few bugs and some missing features. So here is the new update, v1.1!
Functions:
Removals:
-NoRecoil (Normal/Silent -> Fully remove guns recoil)
-NoSpread (Normal/Reverse -> Fully remove/reverse guns spread)
-NoFlinch (Fully remove flincheffect when hit)
-NoAnim (Fully remove weapons animation)
-NoSway (Fully remove weapons sway)
-BulletFix (Improve your hitrate)
-SilentShot (Fully remove gunsounds WITHOUT removing effects)
EngineHacks:
-ChopperESP (Draw ChopperBoxESP always)
-Crosshair (A engine crosshair !DOES NOT AFFECT SPREAD!)
-Chams (Draw all players colored)
-UAV (Normal/Advanced -> Have UAV enabled all the time)
Performance:
-Unlock FPS (Disable FPS Limit of 85)
-RageVars (Remove a lot of effects for better performance)
-Specular (Remove specular for better performance)
-Shadows (Remove shadows for better performance)
-VFX (Remove effects for better performance)
-Fullbright (Enable fullbright for better performance)
-Laser (Draw a laser on your gun)
-LightMap (Change the lightning method of the map)
-ColorMap (Change the coloring method of the map)

Field of View:
-FOV (Set your FOV between 50 and 160)
Host:
-Speedhack (Always be as fast as if you were sprinting)
ColorCorrection:
-EnableCC (Enable colorcorrecting)
-Invert (Invert all colors)
-AltShaders (Use altshader coloring)
-Contrast (Set games contrast)
-Brightness (Set games brightness)
-Desaturation (Set games desaturation)
-Tint (Set games tint)

Perk Modifications:
-SteadyAim (Give yourself steadyaim)
-Recovery (Instantly shoot after sprinting)
-Quickdraw (Instantly be in ADS when zooming)
-DancingADS (Try it yourself ♥)
Config:
-Save Configs
-AutoLoad Configs
-AutoSave Configs
Version:
1.9.461 Steam (

Tekno is NOT supported

)
Status:
Undetected

 as of 12/22/2015 but 

as always use at your own risk


(Version 1.0 had about 5000 active users and didnt get detected since october, so should be save)
System:
-Windows Vista
-Windows 7
-Windows 8
-Windows 8.1
(Windows 10 is not tested, but should work fine as well)
Screenshots: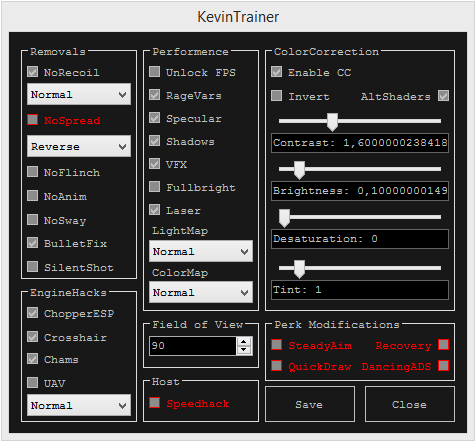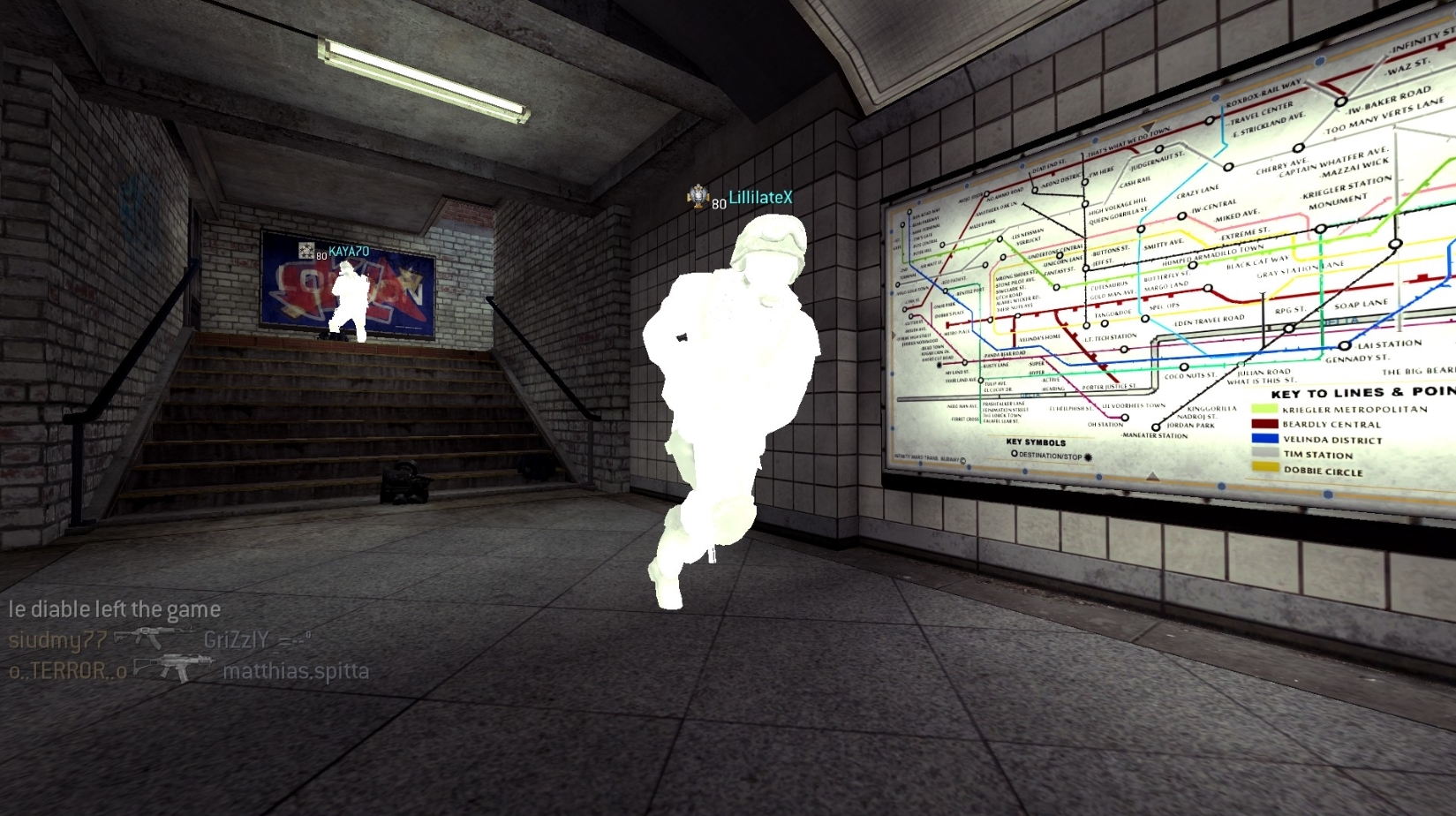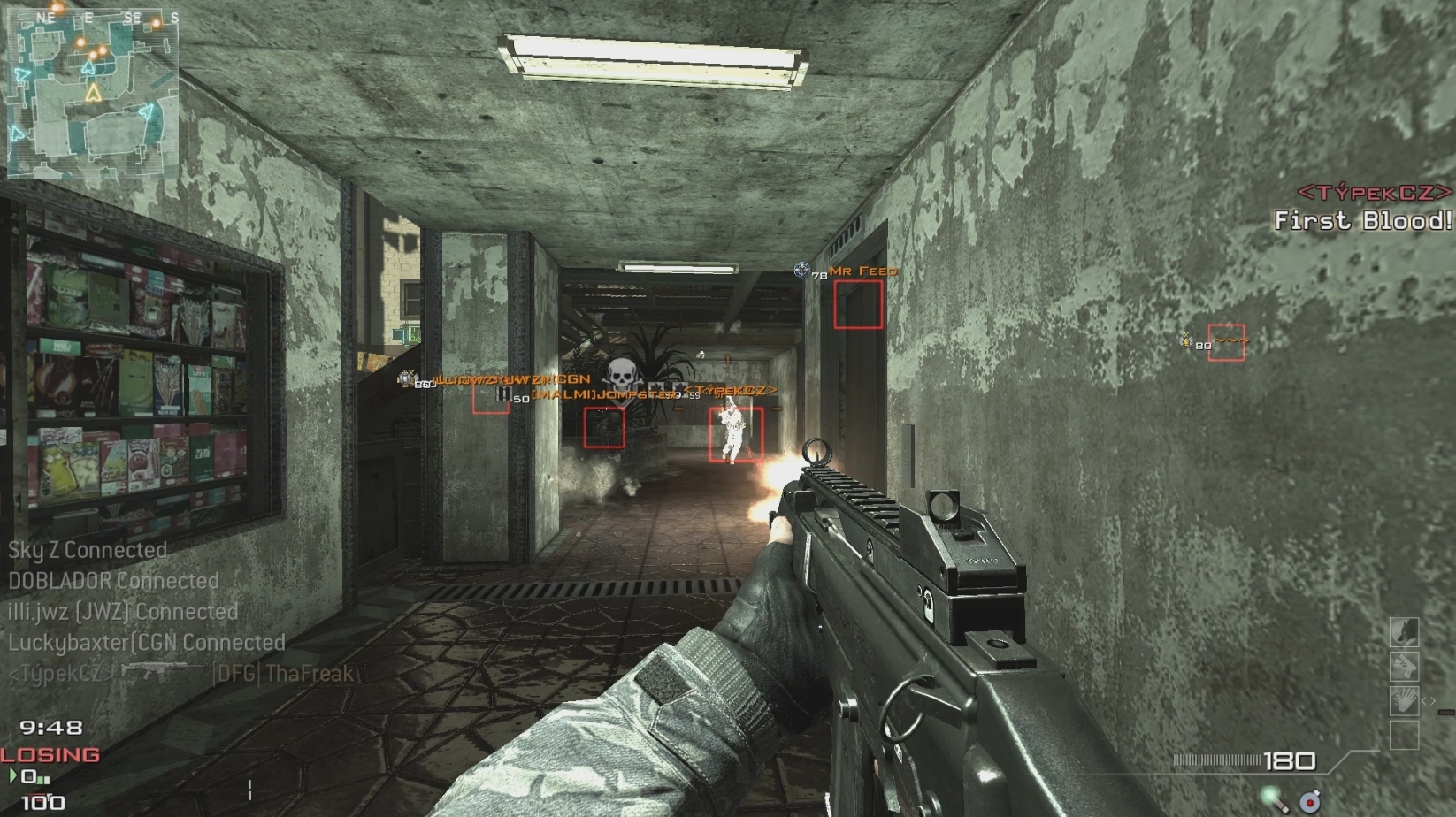 How to use?
When you download and extract the file you'll have an .exe file, simply start it. This screen will show up:

Now you are ready to start your Modern Warfare 3. The first window will close and the main hack will show up.
For security reasons it is recommended to start the hack first, but it will work the other way round as well.
Not, if you either close your game or it crashes, the main cheat will close and the "Please start Modern Warfare 3" window will show up again. Now you can restart your game or close the hack by pressing the "X"-Button in the top right corner.
Multiple instances found?
At the last version was a bugthat when you started the cheat a window showed up saying "multiple instances found", I don't think this will happen again bcs I fixed it, but if it does, simply start your taskmgr, search for "KevinTrainer" and close it. Then start the cheat again 
Red marked functions?
Sometimes you will notice that some functions (NoSpread, Speedhack, ...) are red. That happens when you are NOT HOST but the functions requires you to be host. This is just an information for you, you don't have to do anything. The function will be disabled until you are host again.

VirusScans:
VirusTotal
Jottis
Alıntı: -New NoRecoil Method
-Improved NoSway
-Improved Performace
-Added BulletFix
-Added SilentShot
-Added Engine Crosshair
-Added Engine Chams
-Removed Force Host
-Removed 18 Players Lobby
-Removed AutoWall
-Fixed "Multiple Instances" Bug
http://uploadboy.me/otljzaoq2epv/KevinTr...gh.net.rar